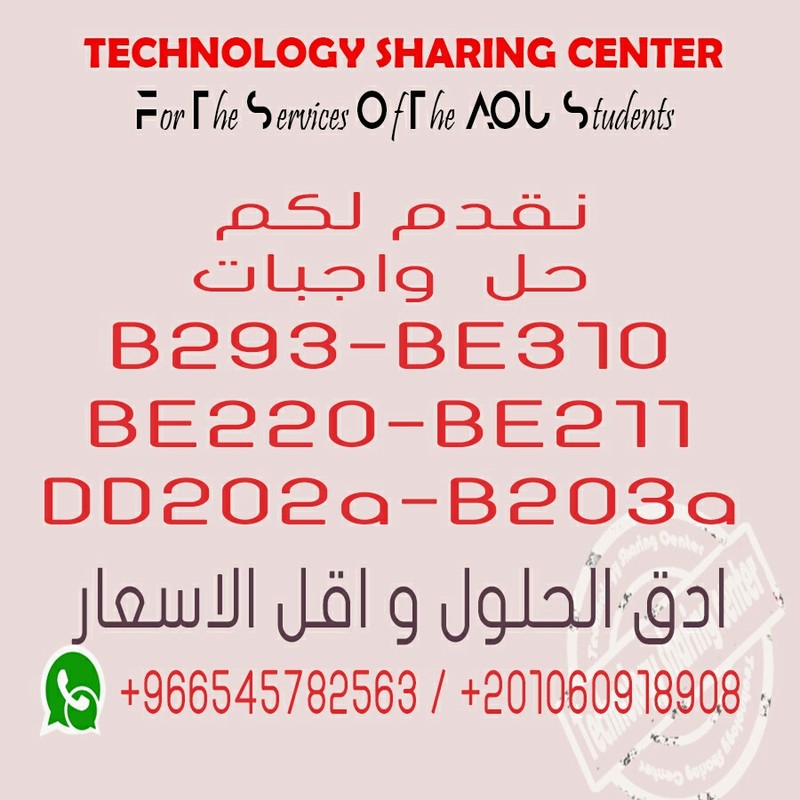 Arab Open University
B293: TMA – 2nd Semester 2017-2018
About TMA:
The TMA covers the financial accounting concepts and practices in the businesses. It is marked out of 100 and is worth 20% of the overall assessment component. It is intended to assess students' understanding of some of the learning points within chapter 15, 16, 17, 21. This TMA requires you to apply the course concepts.
The TMA is intended to:
 Increase the students' knowledge about the reality of the accounting as a profession.
 Assess students' understanding of key learning points within chapter 15, 16, 17 and 21.
 Develop the ability to understand and interact with the nature of the financial statements in reality.
 Develop students' communication skills, such as memo writing, essay writing, analysis and presentation of material.
 Develop basic ICT skills such as using the internet.
The TMA:
The TMA requires you to:
1- Review various study chapter 15, 16, 17 and 21 of 'intermediate accounting' within it.
2- Conduct a simple information search using the internet.
3- Present your findings in not more than 2,000 words. The word count excludes headings, references, title page, and diagrams.
4- You should use a Microsoft Office Word and Times New Roman Font of 14 points.
5- You should read and follow the instructions below carefully. Each part of the process will carry marks for the assignment.
Criteria for Grade Distribution:
Criteria Content Using E-library & Referencing Structure and Presentation of ideas Total marks
Financial Reporting on the Internet: Nike Inc
Marks 100 (3) (2) 100
The TMA Questions
Financial Reporting on the Internet
(Case study1: Coca-Cola)
The internet is a good place to get information that is useful to you in your study of accounting. For example, you can find information about current events, professional accounting organizations, and specific companies that may support your study.
The Coca-Cola Company is the world's largest beverage company. We own or license and market more than 500 nonalcoholic beverage brands including sparkling beverages and a variety of still beverages such as waters, flavored waters and enhanced waters, juices and juice drinks, ready-to-drink teas and coffees, sports drinks, dairy, and energy drinks. We own and market four of the world's top five nonalcoholic sparkling beverage brands: Coca-Cola, Diet Coke, Fanta and Sprite. Finished beverage products bearing our trademarks, sold in the United States since 1886, are now sold in more than 200 countries.
Access the Coca-Cola Company home web page From Coca-Cola Company home page and then "The Company", click on "FINANCIAL INFORMATION", followed by "Reports and results", then select the year 2016 to display and download the "Annual report – 10k" 2016 on Form PDF.
Note: the financial statements of Coca-Cola Company are available at:
http://otp.investis.com/clients/us/cocacola_company1/SEC3/sec-show.aspx?Type=html&FilingId=11881168&CIK=0000021344&Index=10000
Instructions Use the annual report and accounts of 2016 to answer the following questions:
1- What is Coca-Cola company vision and mission? (may need search in the web)
[Marks 10]
2- Companies tend to use the consolidation financial statements rather than Separate financials. Identify the advantages of consolidating the financial statements?[Marks 6]
3- Write a memo, in no more than 300 words, explaining: (Hint: Explain and support your memo by suitable figures from the annual report.)
a. There are two type of leases in accounting explain them and mention the GAAP criteria to consider the lease as capital "finance" lease explain them in details. [Marks 14]
b. Explain the difference between the operating lease and capital lease accounting wise? [Marks6]
4- In the annual report Coca-Cola company mentioned that they measure certain asset and liabilities using fair value measurement, according to FASB there are three level hierarchy for the fair value measurement technique explain them? Mention example from the balance sheet for asset and liabilities that were measured at fair value for each level if available.
      [Marks 9]
5- According to ISAB, Debt investments are accounted either by the amortize cost or by fair value method. To identify the method used there is certain model. Please explain the model and its criteria.    [Marks 5]     
Case study: two
Orange company had the following equity section as of January 1, 2017:
Share capital – ordinary, $10 par 100,000 shares $1,000,000
Share premuim – ordinary $1,300,000
Retained Earnings $350,000
Total Equity $2,650,000
During 2017, the following transaction occurred:
• On March 10, Orange company has repurchase 20,000 treasury shares at a price of $12.
• On April 16, Orange company has sold 2,000 shares of the above mentioned treasury shares at a price of $11.
• On August 13, Another 3,000 shares of the above mentioned was also resold at price of $15.
• On October 20 , another 4,000 treasury shares were sold at a price of $11
Required:
• Prepare Journal enrties to record the above mentioned transsaction [20 marks]
• Prepare the quity section in the balance sheet at December 31, 2017 [5 marks]
Case study: three
During the year the company has issued additioan shares in the following transactions:
• On January 4, 2016 additional 100 ordinary shares were issued with a par value of $1 and market price of 20 [5 Marks]
• On February 5, 2016, the Comapany issued 500 ordinary shares of $1 par value, and 500 preference shares of $1 par value when the fair value of the ordinary shares is $19 each and the fair value of the preference share is $17 each. The total sale amount of $16,500 [10 Marks]
• On April 2, 2016 the Comapany issued 200 ordinary shares of $1 par value, and 200 preference shares of $1 par value when only the fair value of the ordinary is known and its $21. the total sale amount of $6,000.  [10 Marks]
Required:
• Prepare the issuance entries for each of the above transactions (show calculation)
In your answer, you should explain each point or inquire separately. Use the following headings (below) to make up the different sections of your work:
Cover The PT3 form (available on LMS)
Contents Title and contents page
TMA Financial Reporting on the Internet (Case study1: Coca-Cola  case study 2 and case study 3)
References Recorded according to the Harvard style - Available on LMS