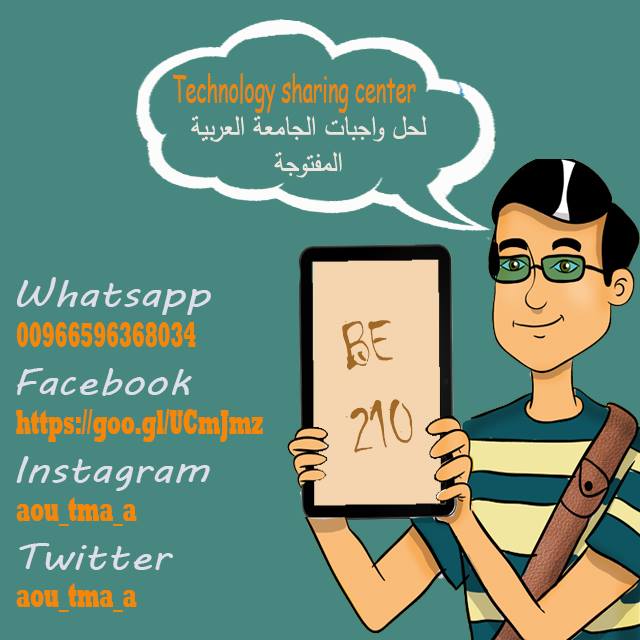 حل واجبات جميع مواد الجامعة العربية المفتوحة لجميع الاقسام و التخصصات
مع نخبة من افضل المتخصصين
نقدم لكم حلول نموذجية نضمن لكم عدم التشابه و الحصول على درجات مرتفعة باذن الله
تميزنا عبر الاعوام الساابقة وحصل طلابنا على اعلى الدرجات
Part (A): Essay Questions
[25 marks in total]
Question 1:
A worksheet is an optional working tool used by accountants to facilitate the preparation of financial statements. Consider the steps followed in preparing a worksheet. How does the use of a worksheet assist the accountant. Could financial statements be prepared without a worksheet? Evaluate how the process would differ. Consider factors such as timeliness, accuracy, and efficiency in your evaluation. [15 marks].
Question 2:
The information needs of a specific user of financial accounting information depends upon the kinds of decisions that user makes. Identify the major users of accounting information and discuss what questions financial accounting information answers for each group of users.[10 marks].
Part (B):Accounting Cycle Comprehensive Problem
[75 marks in total]
Arab Delivery Service, Inc. completed the following transactions during January, 2017:
a. Shareholders invested in the business $26,000 cash and a delivery truck valued at $40,000 in exchange for common stock.
b. Purchased supplies for $1,200 cash.
c. Paid $2,600 for a one-year insurance policy, effective January1.
d. Performed delivery services for a customer and received $1,800 cash.
e. Completed a large delivery job for a customer on account for $7,000.
f. Paid $4,000 for employee salaries.
g. Performed delivery services for customers and received $50,000 cash.
h. Collected $2,000 in advance for delivery service to be performed later.
i. Collected $3,000 cash from a customer on account.
j. Purchased fuel for the truck , paying $1,200 with a company credit card (Credit accounts payable).
k. Performed delivery services on account, $3,600.
l. Paid office rent $2,400.
m. Paid $1,000 for accounts payable.
n. Paid cash dividends of $8,000.
Requirements:
1. Record each transaction in the journal. Key each transaction by its letter (Explanations are not required).
[14 marks]
2. Post the transactionsthat you recorded in requirement 1 to the ledger accounts using T-accounts. The ledger for Arab Delivery Service contains the following accounts:
Cash Service revenue
Accounts receivable Salary expense
Supplies Depreciation expense
Prepaid insurance insurance expense
Delivery truck Fuel expense
Accumulated depreciation rent expense
Accounts payable supplies expense
Salary payable
Unearned service revenue
Common stock
Retained earnings
Dividends
Income summary
[10 marks]
3. Prepare a trial balance at January 31 on a worksheet and enter the following adjustments on the worksheet, and complete the worksheet.
a. Accrued but unpaid employee salaries were $2,400.
b. Depreciation expense for the month was $160.
c. Prepaid insurance expired, $600.
d. An inventory count shows $800 of supplies on hand at January 31.
e. Unearned service revenue earned during January, $1,600.
[16 marks]
4. Prepare Arab Delivery Service's income statement and statement of retained earnings for the month ended January 31, 2017, and the classified balance sheet on that date. On the income statement, list expenses in decreasing order by amount – that is, the largest expense first, the smallest expense last.
[12 marks]
5. Journalize and post the adjusting entries.
[10 marks]
6. Journalize and post the closing entries.
[10 marks]
7. Prepare a post-closing trial balance at January 31, 2017.
[